written by: Payton Adams October 24, 2022
Every Halloween we have the same, unhealthy candy passed around. Well this year let's make that different! At Hey Honey we believe in the beneficial properties of honey for more than just skincare. Not only does honey help with sore throats, it's a great substitute for sugar. Although it is higher in fructose levels than sugar, it's low on the glycemic index making it a great alternative. We've searched around for some tasty honey treats that are a healthier substitute and easy to craft up for this Halloween! 
Honey Hard Candy
Delicious Honey Hard Candy is simple to make and aesthetically pleasing! To get in the festive spirit purchase some Halloween silicone molds to make your candy that much more spooky. Add your hard candy to a halloween themed charcuterie board or just put it in a dish for a little pizzazz at your party.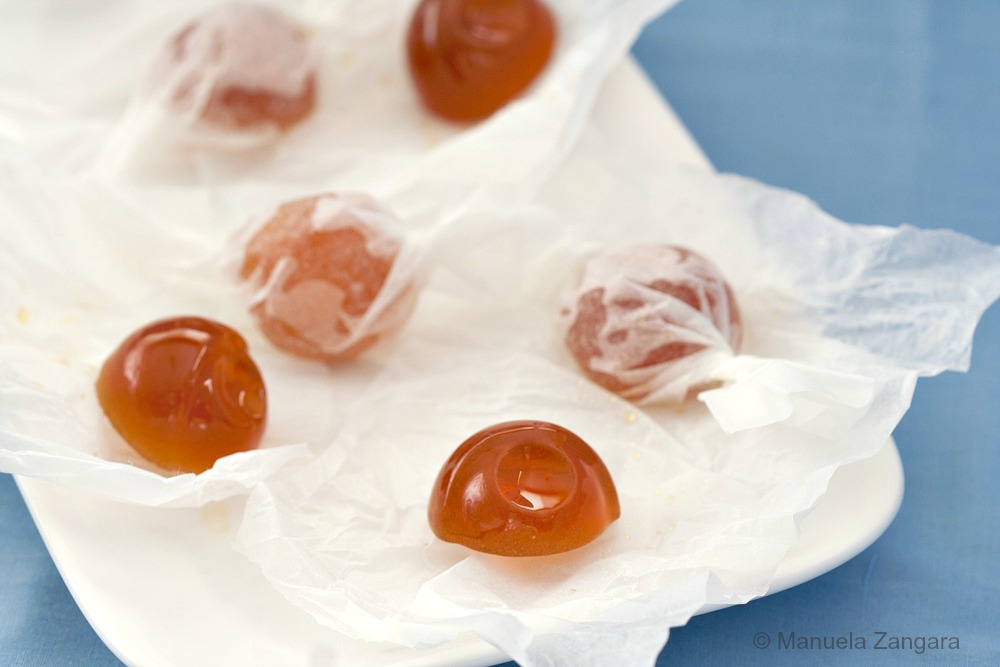 Photo & Recipe Credit: Manuela Zangara
https://www.manusmenu.com/honey-hard-candy
Ingredients
6 tbsp sugar

4 tbsp water

2 tbsp honey (lighter honey is recommended)
Utensils 
medium pot 

spatula 

silicone molds 

candy thermometer
Instructions 
 In a medium pot mix together the sugar, water, and lemon juice on medium heat.

When the mixture reaches a boil, decrease the heat to low and slowly stir in the honey.

Caramelize the mixture and cook it until it reaches the hard crack stage of 295-310 degrees fahrenheit. (about 10 minutes)

Pour the mixture into silicone molds and let the candy harden completely before unmolding.

Enjoy!
Honey Taffy
Get hands on with honey, thanks to this quick and tasty recipe! If you're a taffy connoisseur this recipe is right up your alley, only two ingredients are needed to make this handpulled honey taffy, and a healthier alternative to those basic halloween candies. 
Photo & Recipe Credit: Jennifer Causey
Recipe from MyRecipes
Ingredients 
Cooking spray or olive oil 

1 pound of honey 1 ½ cups
Utensils 
baking sheet

medium saucepan

candy thermometer

plastic wrap
Instructions
Line a baking sheet with parchment paper and lightly coat with your cooking spray or lightly wipe olive oil on the sheet.

Place honey in a medium saucepan and cook over medium-low heat uncovered for about 8 minutes or until honey starts to boil. Continue cooking until a candy thermometer reads 280 degrees fahrenheit.

Pour the mixture carefully and quickly with oven mitts onto the prepared baking sheet and spread evenly with a spatula.  

Cool for 20 minutes.

Lightly spray your hands with cooking spray or olive oil to fold the honey over itself to form a ball.

Stretch the honey into a long strand (about 2 feet long) and then double strand back onto itself twice and press the ends together. 

Continue to pull and fold the honey for about 5 minutes or until the color changes from dark to light.

Wrap in plastic wrap and chill in the fridge for 10 minutes. 

Cut the taffy into 4 equal pieces and roll each piece into a 12 inch log.

Cut each piece into 6 pieces and wrap with confectioners paper, wax paper or wrappers. 

Then serve and enjoy!
Honeycomb Brittle 
Craving something sweet and crunchy? Well this honeycomb brittle will satisfy those cravings and be a fan favorite this fall season! This neat dessert bubbles up and creates air pockets throughout the brittle to give it a unique texture with every bite.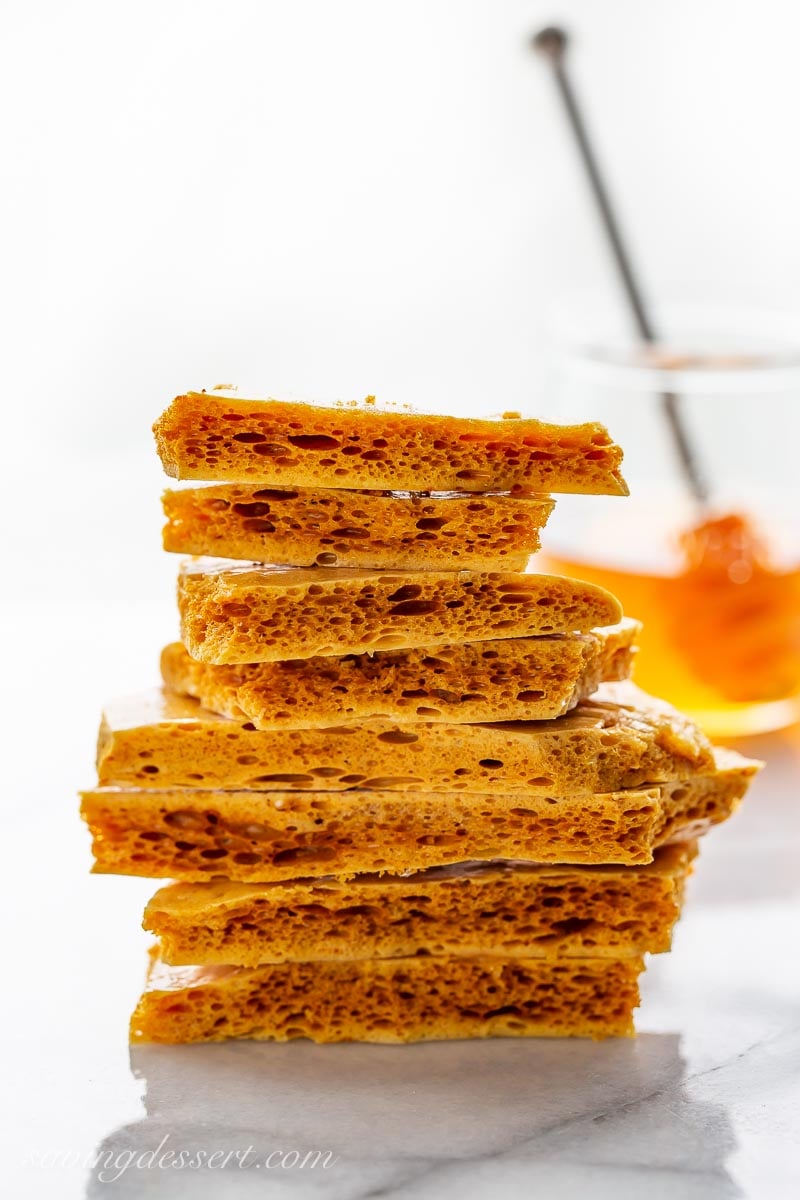 Photo & Recipe Credit: Savingdessert.com
Recipe from Saving Room For Dessert
Ingredients 
1 ½ cups granulated sugar

¼ cup honey

1 tbsp baking soda

¼ cup water 
Utensils
heavy bottom sauce pan

baking sheet

spatula 
Instructions 
First combine sugar, honey and water in a heavy-bottom saucepan.

Bring mixture to a boil over medium high heat. 

Once the candy reaches 300 degrees fahrenheit and is a deep golden color, remove from heat.

Immediately and carefully stir in the baking soda and watch the fun begin!

After the candy brittle bubbles up and grows in volume pour onto a baking sheet and let it cool. 

Once cooled, break the brittle into pieces and enjoy! 
Honey Balls
These honey balls are not only a delicious treat but can also soothe a sore throat. Honey is one of the best remedies for a sore throat due to its natural antibacterial properties. It offers relief for pain and can reduce inflammation. So you get the best of both worlds by enjoying a tasty snack while helping your cold during the cooler months!
Photo & Recipe Credit: Erin 
Recipe from Brownie Bites Blog
Ingredients
¾ cup white granulated sugar
½ cup water
¼ cup fresh lemon or lime juice
¼ cup honey
Powdered sugar for dusting

 
Utensils 
medium saucepan

spatula 

candy thermometer 

silicone molds
Instructions 
In a medium saucepan add sugar and water. Set over medium low heat stirring until the sugar dissolves, then add in the lemon/lime juice and honey.

Increase heat to medium high and stir occasionally until the mixture reaches 300 degrees fahrenheit. Mixture will look bubbly and foamy.

Remove the pan from the heat and cool for a minute letting the bubbles disappear. Pour hot mixture into candy molds and let set for around 2 hours.

Dust with powdered sugar to keep the candy from sticking together and enjoy!
We hope you enjoy some of these fun and tasty treats this Halloween season! Tag us on Socials to show us your delicious creations and for a chance to be featured on our page! 
---
0 comments